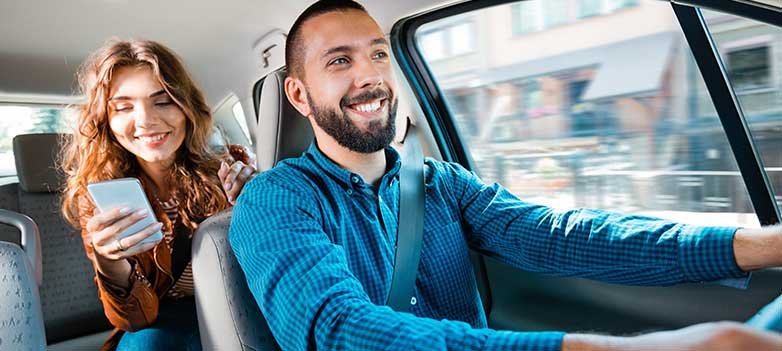 South Carolina Uber and Lyft Injury Lawyer
Helping rideshare accident victims secure the help they need, when they need it
The rideshare industry in South Carolina has exploded over the last few years, much like it has across the country. The industry has become so popular that many people request an Uber or a Lyft to take them to the airport, to the doctor's office, or to the grocery store. Other people use these rideshare companies and their drivers after a night out with friends. Unfortunately, if the rideshare driver is not careful or if the company has hired a bad driver, auto accidents, pedestrian casualties or sexual assaults can happen. When an Uber or Lyft driver is involved in any of these preventable incidents, devastating injuries can occur.
At McGowan, Hood, Felder & Phillips, LLC, our South Carolina Uber and Lyft accident lawyers help injured clients get the help they need. Whether you were hit by an Uber or Lyft driver, were injured while riding in an rideshare vehicle, or were assaulted physically or sexually by a driver, we are here to assist you. Please contact us today.  If this involves matters of sexual assault, please rest assured that any and all information shared is strictly confidential.  We have female lawyers on staff if you prefer speaking to a female.
New driver requirements in effect in South Carolina
The Samantha L. Josephson Ridesharing Safety Act was signed into law early in June 2019 by South Carolina Governor Henry McMaster. This new law requires all Uber and Lyft drivers to display their license plate information on the front of their vehicles on a placard that is easy to read and in large print. The letters and numbers on the placard must be larger than two inches and can be displayed on the passenger side of the front windshield where the Uber and Lyft decals are also displayed. People misrepresenting themselves as rideshare drivers can now face fines and jail time in South Carolina as part of this new law.
Common injuries from crashes with rideshare vehicles
Car crashes can lead to serious injuries. Our firm handles all manner of Uber and Lyft injury claims, including:
Traumatic brain injury
Spinal injury
Broken Bones
Sexual Assault
Sexual assault in Uber or Lyft vehicles
If you are sexually assaulted, or a victim of any kind of violence in an Uber or Lyft – either by a passenger or by the driver – you can file a claim in civil court for damages. A civil claim is different from the criminal charges that may or may not be levied against your attacker, and the outcome in one case may have no bearing on the outcome of the other. We understand that this is an incredibly personal matter, and should you wish to pursue a claim, we promise to treat you and your case with the dignity and discretion you deserve. Additionally, many victims do not come forward because they were drinking at the time of such incident. We understand that intoxication may prevent some people from reporting their claim or being hesitant to come forward. Please understand, we are aware of this potential wrinkle in a case and are aware of how to address such an issue in the litigation. Do not be deterred if you have been a victim of sexual assault. Call us now to discuss this issue. We have female attorneys if you prefer to speak to a female attorney.
How liability is handled in Uber and Lyft accidents
When there is some type of incident with Uber and Lyft, both the driver and the company are covered by liability insurance. There is a mistaken belief that because drivers operate as independent contractors and not employees, this could mean that Uber and/or Lyft bear little responsibility when one of their drivers causes a crash or assaults someone. In reality, however, there has been vast amounts of litigation about this subject and both the driver and the company bear responsibility in almost every situation involving injury to a passenger.
Speak with an experienced South Carolina serious injury attorney today
Suffering an injury in an Uber or Lyft can leave you with massive medical bills, debt, and cause you to miss work for an extended period. The experienced team from McGowan, Hood, Felder & Phillips, LLC can help you recover the compensation you deserve. If this involves a case of sexual assault, our experienced attorneys understand the sensitive nature of this type of claim and will do whatever is necessary to ensure you are comfortable discussing any such situation.  Call us at 803-327-7800 or complete our contact form to schedule a consultation at one of our multiple office locations throughout South Carolina.
Related Articles