Will "Sami's Law" Keep More Uber and Lyft Riders Safe?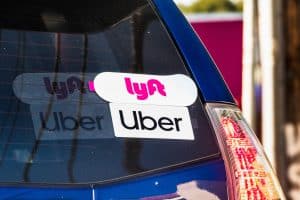 On January 5, President Biden signed HR 3262 into law, legislation also known as "Sami's Law." The bill, introduced back in 2019, will make it illegal for rideshare companies like Uber and Lyft to sell or provide their logos to anyone who isn't a driver. It also requires the companies to devise a system that makes it easy for passengers to ensure they are getting into the right vehicle before they embark on their ride.
HR 3262 is named in memory of Samantha Josephson, who was murdered after getting into the wrong vehicle while waiting for an Uber after a night out with friends in 2019. Per News 19:
Josephson's parents established the What's My Name Foundation to educate people about ride-share safety and advocate for policies that enhance safety for ride-share users. The Samantha Josephson Ridesharing Safety Act was signed into law in South Carolina in June 2019 and Sami's Law was signed into effect in New Jersey, Josephson's home state. New Jersey's US Representative Chris Smith and Senator Cardin introduced the bill in Washington in May 2019, where it lingered until late last year.
Biden's signature now makes Sami's Law a federal regulation.
What happened to Samantha Josephson?
Back in 2019, Samantha – or "Sami" to her friends – called for an Uber to take her home after a night out in Columbia. She "hopped into a black Chevy Impala, thinking it was her ride, Columbia Police Chief W.H. 'Skip' Holbrook said during a news conference. About 14 hours later, turkey hunters found her body in a field 90 miles from Columbia."
Sami's killer was soon apprehended, but her tragic and senseless murder sparked a wave of questions and outcry about rideshare safety. Just recently, a Denver man was charged with over 40 felony counts after assaulting at least 10 women by posing as their Lyft driver outside nightclubs. Sami's Law could help prevent more terrible attacks.
What will the new law do?
HR 3262 aims to address these concerns by:
Making it easier for passengers to verify they are getting into an authorized rideshare vehicle, including (per the legislation):
A provision that requires each TNC [Transportation network company such as Uber or Lyft] vehicle to display a consistent and distinctive sign at all times when the TNC driver is active on the TNC digital platform or providing any prearranged transportation service. Such sign— (i) shall include the transportation network company's proprietary trademark or logo; (ii) shall be readable during daylight hours at a distance of 50 feet; (iii) shall be illuminated so that it is patently visible in darkness.
Banning the sale of Lyft and Uber logos to anyone without the express approval of the company:
A law that prohibits an individual who is not a TNC driver for a transportation network company from displaying on any vehicle the sign described in paragraph (2)(C) that is affiliated with that company on any vehicle with the intent to pass himself or herself off as a TNC driver operating a TNC vehicle for the transportation network company affiliated with that sign.
Require the Government Accountability Office (GAO) to provide a report to Congress in one year and every two years after, detailing and analyzing assaults, as well as other safety measures like background checks:
The Comptroller General of the United States shall conduct a study on the incidence of assault and abuse perpetrated on drivers by riders using ride-hailing vehicles, and on such riders by drivers of ride-hailing vehicles, and shall submit a report to Congress not later than one year after the date of enactment of this Act.
The bill was sponsored in 2021 by NJ Representative Christopher Smith and co-sponsored by South Carolina Reps. Jim Clyburn and Joe Wilson.
If you are assaulted in an Uber or Lyft
If you are the victim of an assault or attempted assault in a rideshare vehicle in South Carolina, it's important to take immediate steps to ensure your safety and well-being. Try to take the following steps:
Leave the vehicle and find a safe place. If you are in immediate danger, try to exit the vehicle and find a safe place, such as a nearby store or police station. Try to remember or get a photo of the car's plates if you can.
Call the police. Dial 911 to report the assault and request police assistance. Give them your location and as much detail as possible about the attacker.
Seek medical attention. If you have been injured, seek medical attention as soon as possible. Having a record of any injuries will also be helpful if you choose to press charges.
Report the incident to Uber or Lyft. You can report the incident to the rideshare through the app or by contacting their customer support team. They will be able to provide you with additional resources and support.
Preserve evidence. If possible, try to preserve any evidence of the assault, such as clothing or other items that may have the attacker's DNA on them.
You have the right to seek justice and compensation for your losses and damages in a civil lawsuit – talk to our attorneys about protecting your rights throughout the legal process.
** If you were sexually assaulted, contact the National Sexual Assault Hotline, online or at 1-800-656-HOPE. They can listen, help, and provide local resources and support. **
The South Carolina attorneys at McGowan, Hood, Felder & Phillips, LLC are here to listen if you were assaulted in a rideshare vehicle. We will protect your rights and we can work to recover compensation for your losses and damages. To schedule a no-cost case review with an experienced lawyer, call our offices or fill out our contact form today. Your consultation is always confidential.