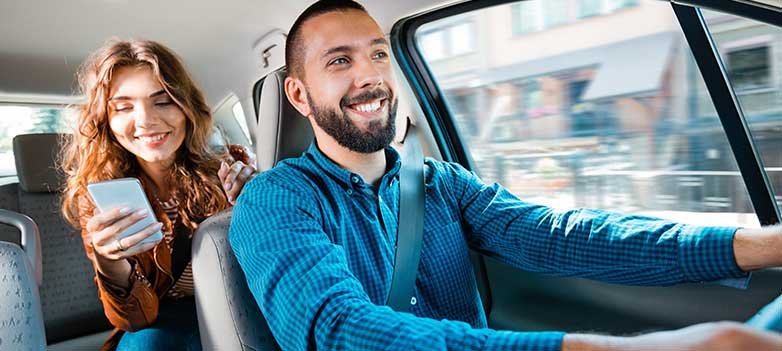 Anderson Lyft & Uber Accident and Injury Attorneys
Legal help for South Carolina victims of rideshare accidents and assaults
Anderson, SC is the proud home to Anderson University, which has over 3,000 students. Most Uber and Lyft drivers are helping people live, work, attend school, or visit Anderson get to their destination in an inexpensive and convenient way. With rideshare companies working as a "middleman" to match drivers and riders, unfortunately sometimes dangerous or reckless drivers can slip through the cracks. Careless drivers or companies who fail to properly vet their drivers must be held liable for the injuries and damages they cause.
At McGowan, Hood, Felder & Phillips, LLC, we understand how an injury can turn your life upside down. For several decades, our Anderson personal injury attorneys have earned the respect of our colleagues and of former clients for our ability to aggressively investigate what happened to confirm the facts, to thoroughly prepare your case for trial, and to persuasively argue your case in court. We'll also negotiate for a fair settlement if that's in your best interests.
Our lawyers don't back down from the tough cases. Contact us today.
Can I sue my Anderson Lyft or Uber driver after an accident?
Nobody wants to get into a car accident, but unfortunately, they do happen. If you're hurt in an accident as a passenger in a rideshare, who's responsible for your injuries and damages? Many people are confused over whether it's the driver, the rideshare company, or both. The answer can be complicated.
Uber and Lyft have spent a lot of money and resources trying to skirt responsibility and liability when passengers are injured or assaulted when using their services. Unlike traditional taxi or bus companies, rideshare companies classify their drivers as independent contractors, so they can remove themselves from liability from driver misconduct. You need an experienced Anderson attorney on your side.
What if the drivers' app was turned off at the time of the accident?
In terms of insurance, both Uber and Lyft carry their own insurance liability policies, and all drivers must carry their own personal auto insurance. When a driver is on the clock – meaning their rideshare app is on and they're actively working – both insurance policies may be in play. However, if their app is turned off and they're not working, only their personal insurance is active. Our lawyers can explain the finer details.
We hold rideshare companies responsible for assaults and injuries
Rideshare companies like Lyft, Uber, and others have recently been making headlines for a rise in driver-on-passenger assaults. As more victims come forward, companies are adding more safety features to their apps in an attempt to provide more security for passengers. These companies should also be mandating awareness training, improving their background checks, and more thoroughly investigating incident reports.
At McGowan, Hood, Felder & Phillips, LLC, our Anderson lawyers work with the authorities and experts, using our skills and resources to document exactly what happened. Our job is to ensure your attacker is held accountable for their actions and that they're never permitted to drive passengers again.
Remember, if you're the victim of an assault, you have legal rights. You may file charges against the driver, and you may also be able to make an injury or negligence claim against the rideshare company. Even though the driver doesn't work directly for the company, Uber and Lyft still have a responsibility to protect you from dangerous individuals.
When you work with us, we build a strong case to prove that the rideshare company failed to:
Conduct proper background checks
Implement safety and security protocol
Investigate other complaints of misconduct
Properly interview/screen drivers
Assault and accident claims are generally handled differently, as assault is considered a criminal act. Our Anderson attorneys can explain how your particular situation applies.
What to do after an Anderson Uber/Lyft accident
If you were involved in an accident as a passenger in a rideshare, or in another vehicle involved in the accident, try not to panic or make any statements to anyone other than police. Take the following steps to ensure both your safety and your right to bring a claim in the future.
Call 911. Even if it's a minor accident, you'll still need a police report for the insurance companies. The report will also have the driver's name and address, license, plate, and other information. The police will also document the scene of the accident.
Get witness contact info. Collect the contact information from any witnesses, pedestrians, other passengers, etc.
Confirm your ride status. Take a screencap of your ride or receipt to have proof you were an active passenger at the time of the accident.
Take photos. Photograph the accident scene, road conditions, the vehicles involved, and your injuries.
Seek medical attention. Even if you don't feel injured, or just bumps and bruises, you should see a doctor for confirmation. Some injuries take a while to manifest. Save all your paperwork.
Notify the rideshare company. Make sure the company knows the driver was involved in an accident. Give them only the basic information.
Consult with an Anderson rideshare accident attorney. An honest lawyer can provide valuable guidance regarding your rights and compensation for your injuries.
How our Anderson rideshare injury attorneys can help
If you're hurt in an Uber or Lyft accident – especially a serious injury that results in temporary or permanent disability – life quickly turns overwhelming. When you can't work, the bills start piling up, and medical bills alone can run into the hundreds of thousands of dollars. You should not be responsible for these financial burdens when your injuries were not your fault.
Our attorneys insist and demand that negligent drivers and rideshare companies take responsibility and compensate you for your losses and damages, including:
Medical bills, past and future
Lost wages and future inability to work
Pain and suffering
Punitive damages (court-awarded)
Dedicated Anderson Uber & Lyft accident attorneys
The attorneys at McGowan, Hood and Felder, LLC have decades of experience advocating for the people of South Carolina. We take on reckless drivers and negligent rideshare companies when their actions injure you or someone you love, working to secure you the compensation you deserve. For help now, call our team at 855-326-1091 or fill out our contact form to schedule an appointment.