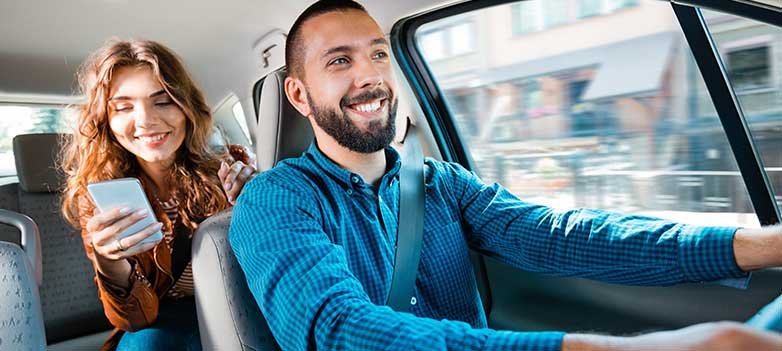 Sumter Lyft and Uber Accident and Injury Attorneys
Protecting South Carolina rideshare passengers from dangerous drivers
Sumter is one of the thriving centers in east Central Piedmont. Workers, residents, and tourists who don't have a car, want to have a cocktail or two, or just want to avoid the hassle of parking, rely on Uber, Lyft, taxis, and other commercial transport services to get around the city. Sometimes Uber and Lyft can be problematic for passengers, because their drivers aren't employed or vetted in the same way that older transport companies vet and supervise their employees.
If you or a loved one is hurt in a Sumter rideshare accident, both the driver and the company could be held responsible – the driver for causing your injuries and the company for negligent hiring practices. The personal injury attorneys at McGowan, Hood, Felder & Phillips, LLC have been advocating for the rights of victims for decades. We put our knowledge to work for you to secure compensation for your injuries, losses, and damages. Call us today.
Who is liable for my Sumter Uber/Lyft accident?
In order to drive for a rideshare company, an individual is required to have their own auto insurance policy. This is because Uber and Lyft classify their drivers as independent contractors rather than employees, relieving them of a large chunk of liability. Uber and Lyft do have liability insurance, too, but determining whose insurance covers what person and when it kicks in can sometimes be complicated. And make no mistake – this is on purpose.
Generally, however, rideshare companies provide coverage when drivers are on the job – meaning they're actively transporting passengers at the time of a car accident. The driver is logged into the app, the passenger is logged into the app, and the ride is in progress. Here's an overview of how rideshare company liability insurance typically works in the event of an accident.
If the driver's app is on (driving mode) but they do not have a passenger:

Up to $50,000 for each injured person
Up to $100,000 total injury coverage per accident
Up to $25,000 for property damage

If the driver is in driving mode and does have a passenger:

Up to $1 million total coverage
For example, an Uber driver has their app on and is actively searching for a passenger, but doesn't yet have a ride request. They run a stop sign and hit another car. The injured person may be eligible for up to $50,000 in damages. On the other hand, if the Uber driver had been in driving mode with a passenger, the other driver (as well as the passenger) would be eligible for up to a million dollars in damages for their injuries.
What if the drivers' app was off at the time of my accident?
If the Uber or Lyft driver's app is turned off, and you're injured in an accident they cause, typically you'll have to go through their personal insurance policy for compensation. However, if the rideshare driver is actively working – their app is turned on and they're "on the clock" – Uber and Lyft's insurance is also active. The experienced attorneys at McGowan, Hood, Felder & Phillips, LLC can explain which scenario applies to your situation.
My Sumter Lyft/Uber driver assaulted me – what do I do?
Rideshare assaults, sadly, are a big topic in the news lately. If you experienced a sexual or physical assault from your driver, first understand it was a crime. Then, take these steps to ensure the perpetrator is held responsible for their actions, in both the criminal and civil justice systems.
Get to safety and call 911
Give authorities a statement
Take photos of your injuries
Get all advised medical care
Screencap your rideshare details/receipt
Notify the rideshare company
Contact a reliable personal injury attorney
Companies like Uber and Lyft also have anti-discrimination policies. If your driver discriminated against you on the basis of race, color, gender, gender identity, physical disability, mental disability, medical condition, marital status, age, or sexual orientation, talk to our Sumter attorneys about how to proceed.
We know how to hold rideshare companies accountable
When big companies like Lyft and Uber refuse to take responsibility for their own negligence, we'll step forward. Our Sumter injury lawyers hold companies liable when they fail to:
Conduct professional background checks of their new drivers
Establish protocols to help protect the safety of their passengers
Investigate other complaints of driver misconduct
Monitor their drivers during the ride by checking in with them
Prevent known dangerous or reckless drivers from accepting passengers
When it comes to liability, your rideshare driver is generally responsible for their own intentional misconduct. However, the rideshare company could also be held liable if they were negligent in their hiring practices or failed in some way to keep you safe. In some cases, more than one party can be held liable.
What to do after a Sumter Uber or Lyft accident
If you're involved in a rideshare accident, there are several key steps to take:
Call the police. You won't have a strong case without a police report. They will document the accident as well as get all the pertinent information from all parties involved.
Get medical attention. Emergency rooms or urgent care centers can document your injuries and provide immediate medical help. Even if you don't feel injured, see a doctor anyway. You may not feel pain for a few hours or days. Save all your medical paperwork.
Verify your ride. If possible, document that you were in an active ride at the time of the accident. Screencap and save the info confirming your ride.
Get the names of witnesses. Witness accounts are valuable for a successful case.
Consult with an attorney. Our injury attorneys can explain your rights and guide you through the process.
Contact McGowan, Hood, Felder & Phillips, LLC before you sign anything or agree to any settlements.
Compensation for rideshare accidents and injuries
After an accident or assault in an Uber or Lyft, you should not be responsible for your injuries, damages, or losses. Our experienced lawyers hold the reckless and negligent parties responsible, and demand compensation for:
Medical bills, current and future
Lost wages, current and future
Pain and suffering
In some cases, you may be awarded punitive damages. These are damages designed to punish the guilty party and deter them from future misconduct.
Call our experienced Sumter Uber and Lyft accident injury lawyers
At McGowan, Hood and Felder, LLC, our legal team will guide your through each step of the litigation process. Many car accident cases do settle. But when trials are the only way to get justice, our Uber and Lyft injury lawyers have the experience and skills to try to your case before a jury. To schedule a free consultation at our Columbia office, please call us at 803-327-7800 or complete our contact form.
---
Columbia

,

SC Office - just 43 miles from Sumter
McGowan, Hood, Felder & Phillips, LLC
1517 Hampton St.
Columbia, SC 29201
Phone: 803-779-0100
Map