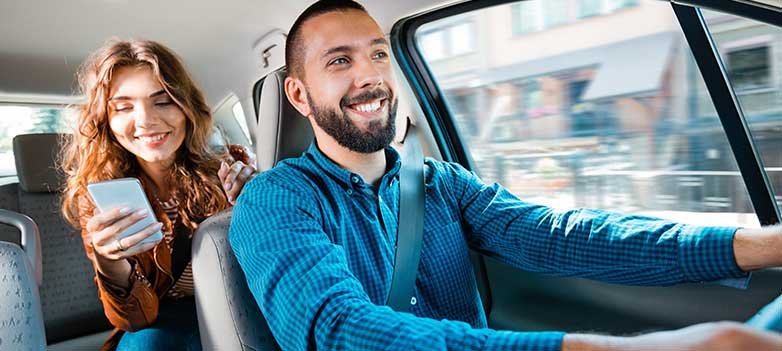 Greenville Uber/Lyft Accident and Injury Lawyers
Representing injured South Carolina rideshare passengers
Greenville is the sixth largest city in the state and growing. Residents aren't using taxis and buses as much as they used to when navigating the city. They're now turning on their apps and arranging for a ride with an Uber or Lyft driver. These rideshare services offer just about anyone with a vehicle a chance to make some extra money, but you have the right to expect your driver to be safe and responsible. Passengers depend on Uber and Lyft to run the right security checks and create the proper protocols to make passenger safety a priority.
At McGowan, Hood, Felder & Phillips, LLC, we have a team of Greenville personal injury lawyers, investigators, and staff with decades of experience pursuing justice on behalf of anyone injured due to the intentional misconduct or negligence of another. We seek to hold not just the driver accountable, but to also hold rideshare companies liable for negligent hiring practices. Our attorneys send a message to companies like Uber and Lyft that passenger safety is paramount – not profits.
Who holds liability for a Greenville rideshare accident?
Drivers for Uber, Lyft, and other rideshare companies are mandated to have personal auto insurance policies, as they use their own vehicles to transport passengers. The companies also have their own liability insurance policies, but understanding when each policy is active and which one should cover your injuries in the event of an accident or assault can be complicated.
Typically, both Uber and Lyft provide liability coverage for drivers involved in accidents when they're in "driving mode." Driving mode means that the driver's rideshare app is on, they've accepted a ride request, and are either on the way to pick up a passenger or have passengers in their vehicle. These insurance policies should also be in play if you're involved in a third-party accident with a Lyft or an Uber.
Generally, rideshare company insurance works as follows:
If the driver's app is on (driving mode) but they do not have a passenger:
Up to $50,000 for each injured person
Up to $100,000 total injury coverage per accident
Up to $25,000 for property damage
If the driver is in driving mode and does have a passenger:
Up to $1 million total coverage
Using the first point as an example – an Uber driver has their app on and is looking for a passenger, but hasn't answered a request yet. They run a stop sign while distracted and cause an accident, injuring the other driver. The injured driver may be eligible for up to $50,000 in damages. However, the second point increases coverage – a Lyft driver has their app on and has a passenger in their vehicle. If they cause an accident with injuries, the victims may be eligible for up to one million dollars in damages.
The Greenville attorneys at McGowan, Hood, Felder & Phillips, LLC also protect the rights of victims assaulted or attacked by rideshare drivers.
I was assaulted in a Greenville Uber or Lyft. What should I do?
Allegations of sexual assaults and other violence in rideshares have been in the headlines lately. Although Lyft and Uber promote security features in their apps, dangerous individuals can still find their way into these positions when companies fail to properly screen their drivers. If you were assaulted by your rideshare driver, ensure you take the following steps to protect yourself and help hold your attacker responsible for their actions.
As soon as you get to safety, call 911
Provide authorities with all information
Screencap your ride details, receipt, etc. from the app
Photograph and get medical care for your injuries
Notify the rideshare company of the incident ASAP
Save all paperwork (police reports and medical documents)
Consult with a personal injury attorney
Rideshare companies like Lyft and Uber also have specific anti-discrimination policies. If your driver discriminated or harassed you on the basis of race, religion, national origin, disability, sexual orientation, sex, marital status, gender identity, age or any other characteristic protected under law, our Greenville lawyers will take action to protect your rights.
What if the drivers' app was turned off at the time of the accident?
If the Lyft or Uber driver was not on the job during an accident – meaning their app was turned off and they weren't seeking or transporting passengers – they must use their personal auto insurance. However, if they cause an accident while they're working and their app is turned on, the rideshare company's insurance may also apply.
Can I sue Uber or Lyft for my injuries and damages?
Although rideshare companies attempt to dodge responsibility when it comes to their drivers' reckless or irresponsible actions, they don't deserve a free ride. If you're injured in a Lyft or Uber accident, the driver may be liable – but the rideshare company may hold some responsibility as well. The Greenville injury attorneys at McGowan, Hood, Felder & Phillips, LLC work to prove that the company:
Didn't investigate or follow up on complaints against drivers
Failed to conduct professional background checks of their new drivers
Failed to implement required safety protocols
Failed to prevent dangerous or predatory drivers from accepting passengers
When rideshare companies put dangerous drivers on the road, they may be held liable for negligent hiring practices.
What to do after a Greenville rideshare accident
If you're in an accident while riding in a Lyft or Uber – or involved in an accident with one – consider taking these steps in order to protect yourself as well as your rights to compensation.
Call the police. Even if it's a minor wreck, the police will document the accident, which you'll need for insurance information and other documents. They'll also obtain the driver's contact and drivers' license information, and speak to any witnesses.
Verify your ride. Ensure you have a screencap and record of your ride, to show that you were an active passenger at the time of the accident.
Get the contact info of any witnesses. If there were any witnesses (other passengers, passers-by, etc.) collect their contact information in case you need their statements later.
See a doctor. The ER or an urgent care center can document your injuries and provide medical help. Save all your paperwork and receipts, including all prescriptions.
Talk to an attorney. Our rideshare accident lawyers can help you build a strong case for compensation for your injuries and losses.
Contact McGowan, Hood, Felder & Phillips, LLC before you discuss any settlements or sign any paperwork. Your claim is worth more than you think, and we can help.
Compensation for Uber & Lyft accidents and injuries
When you're involved in a rideshare vehicle accident that wasn't your fault, you should not be responsible for your injuries, damages, and losses. Our Greenville attorneys hold the negligent parties accountable – whether it's the driver, the company, or both – for:
Medical bills and prescriptions, current and future
Lost wages or earning capacity, current and future
Pain and suffering
Punitive damages (in some cases)
In cases of assaults or charges like drunken driving, criminal charges will also likely be involved. Talk to our legal team for guidance on how to most effectively and advantageously handle this process.
Greenville rideshare accident injury attorneys working for you
Greenville passengers have the right to trust the drivers who transport them on behalf of Uber and Lyft. Our seasoned rideshare lawyers help injury victims secure fair and just compensation for their losses and damages. For clear guidance and strong advocacy, call the Greenville lawyers of McGowan, Hood, Felder & Phillips, LLC at 855-326-1091 or use our contact form to schedule an appointment.