Can the Nursing Home Take Your Stimulus Check?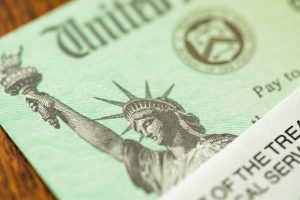 When the federal government announced that it would be creating an economic relief package to help ease some of the strain caused by coronavirus, it allowed many people to take a small but needed breath. Part of that assistance came in the form of stimulus checks to every man, woman, and child in the country who earned below a certain annual income.
Once the checks began to show up in bank accounts and mailboxes around the country, anticipation grew. The average household knew that it was just a matter of time before they would receive their check and be able to pay a few past-due bills or just put food on the table. However, if you are elderly and live in a nursing home committing financial abuse, you may have a problem.
Many seniors have learned that they are being fraudulently required to turn over every cent of their check. Medicare and Medicaid recipients are at greatest risk of being defrauded out of their checks. This is because the company that owns your nursing home gets paid less for residents who participate in government programs. In their minds, you are getting a deal, so they deserve your check.
Why is my nursing home not allowed to keep my stimulus check?
The Internal Revenue Service (IRS) and the Federal Trade Commission (FTC) say your check belongs entirely to you. The IRS has stated so in writing, complete with a warning. Their official position is that stimulus payments do not count as a resource or income toward eligibility determinations for participation in government programs such as Medicaid for a period of 12 months from the date the payment is received.
The stimulus payment should also have no effect on the following programs:
The stimulus payments are actually an advanced tax credit, rather than found money. It cannot be designated as income because you will essentially be repaying it through a reduction of your allowable tax credit on your 2020 tax return.
What can nursing home and assisted living facility residents do if their check is taken?
If your check was confiscated by anyone at the care facility that you live in and you were forced to sign it over to them, then you have options to seek help.
File a complaint with the South Carolina Attorney General. Particularly if the facility administrator or other individual in management was involved. An investigation into resident financial abuse will be opened and if the facility is found to be in violation, they could face losing the ability to participate in Medicaid or Medicare programs, and other possible federal enforcement action.
Once you file a complaint with the attorney general, file a complaint with the FTC. They want to hear from victims of this scam.
The South Carolina Lieutenant Governor's Office on Aging is another resource for filing a complaint and seeking legal assistance for those considered part of the vulnerable population.
If you live in a nursing home or assisted living facility that has required you turn over your stimulus check or other assets they are not entitled to, you need your rights protected by the experienced nursing home financial abuse attorneys at McGowan, Hood & Felder, LLC. For peace of mind, call 803-327-7800 today to schedule your free, no-obligation legal consultation with one of our understanding attorneys, or you are welcome to reach out to us through our contact page to tell us your story. We maintain offices throughout South Carolina for your convenience.