Causes of Motorcycle Accidents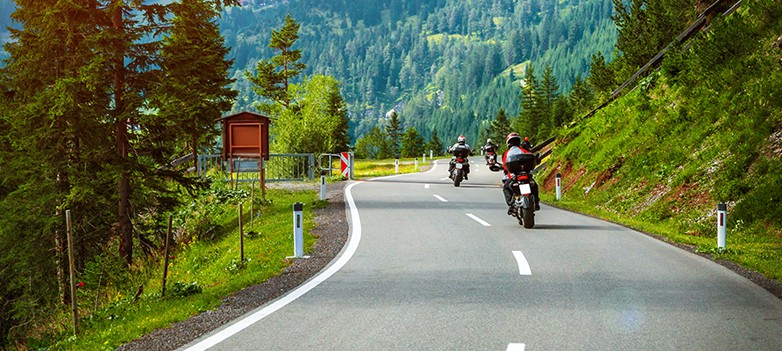 South Carolina Law Firm Explains the Causes of Motorcycle Accidents
Strong advocates for serious motorcycle accident clients
Motorcycle accidents are often deadly and usually much more serious than other types of vehicle accidents. Motorcycle drivers and passengers have little or no protection if their vehicle falls to the roadway or is struck by another vehicle. Victims are susceptible to broken bones, catastrophic harm – or even wrongful death. Many South Carolina motorcycle accidents occur due to the reckless or careless actions of other motorists, who fail to take precautions and respect cyclists' right to the road. If you or a loved one has been hurt in a serious accident, do not hesitate to reach out for legal help.
The South Carolina law firm of McGowan, Hood, Felder & Phillips, LLC, has extensive experience in advocating for motorcycle accident victims. Our South Carolina personal injury lawyers investigate the causes of motorcycle accidents, compile convincing evidence to prove the other party's fault, and help victims obtain the compensation they deserve. Our lawyers fight to get each client every penny South Carolina law entitled them to.
The major causes of motorcycle accidents
Our attorneys have litigated and negotiated countless motorcycle crash cases. We use this knowledge to prepare your case for settlement or for a jury trial. Some common causes of motorcycle accident we see include: 
Drunk driving. Drunk driving accounts for nearly one out of every three motor vehicle accidents in the United States, according to the Centers for Disease Control. Every day, about 30 people are killed in a drunk driving motor vehicle accident. Each South Carolina motorcycle accident attorney at McGowan, Hood, Felder & Phillips, LLC, knows insurance companies may attempt to assert defenses, such as arguing that the blood or breath test taken at the scene of the accident is not valid. We help prove a driver was intoxicated and that the driver's drunken state caused the accident.
Speeding and reckless driving.  When motor vehicle operators speed or drive recklessly, danger is exponentially heightened for the motorcyclist. The motorcycle operator has precious little chance to steer clear of the larger vehicle. Typically, the higher the speed of the vehicles, the more severe the injuries will be. Highway motorcycle accidents due to speeding and reckless driving are often fatal or catastrophic.
Distracted driving. In 2013, distracted drivers injured more than 420,000 people, and 3,154 people were killed by this inexcusable failure. Distracted driving includes texting while driving, talking on a cellphone, and any event that takes the driver's eyes and concentration off the roadway. A car or truck driver may fail to even see a motorcycle approaching because his or her attention is diverted elsewhere.
How we handle a motorcycle crash case
The South Carolina motorcycle accident lawyers at McGowan, Hood, Felder & Phillips, LLC, handle each and every case with diligence, care, and precision. Our attorneys:
Investigate the cause of the accident
Speak to all relevant witnesses
Review any technical devices that were being used
Work with traffic reconstruction experts
First, we determine why the motorcycle accident happened and who is at fault. We use our deep legal knowledge and tactical negotiation skills to present a sound case to the negligent party. At McGowan, Hood, Felder & Phillips, LLC, our South Carolina motorcycle accident attorneys have obtained large settlements and verdicts for accident victims and family members.
Skilled attorneys for motorcycle accident victims and families in South Carolina
When you chose McGowan, Hood, Felder & Phillips, LLC, to represent you, we work tirelessly to prove the other person or company was at fault after a serious motorcycle crash. Our South Carolina motorcycle accident lawyers work to show that you did not contribute to the accident in any way.  We are dedicated, driven, and committed to delivering results. Your motorcycle accident case matters to us. Let us help you obtain the justice and compensation you deserve.
Contact McGowan, Hood, Felder & Phillips, LLC, today.  Call 803-327-7800 and schedule a free case evaluation by a South Carolina motorcycle accident attorney, or fill out our contact form from any device.  We proudly serve people throughout South Carolina from offices in Columbia, Anderson, Rock Hill, Sumter, and Georgetown.