How to Choose a Safe and Healthy Daycare Center in South Carolina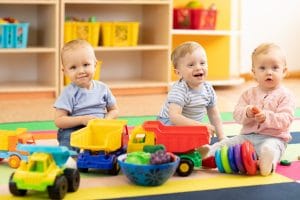 Every day, working parents across the country drop off or pick up their children from daycare. Millions of kids will spend time in these centers, and there are hundreds – even thousands – of centers in each state from which to choose. Quality childcare costs thousands of dollars each year, and many parents feel anxious when it comes time to pick a facility.
In South Carolina, for example, there are close to 1,800 different preschools and child development centers. Some of them are part of larger organizations, and some are privately operated. Some are part of larger educational institutions, and some are independent. They are spread out across every county, and finding the right one for your needs is more than a matter of price and location: you also want a daycare facility that will keep your child healthy and safe.
How can parents know their daycare center is safe?
Almost every daycare center website out there claims that their facilities are safe – but how can you know? ChildCare.gov, the American Academy of Pediatrics (AAP), and other organizations recommend many of the following steps for choosing quality care:
Do your research. Looking online is a good start, but you should also ask your friends and neighbors who provides their daycare, and how they feel about it. Ask for proof of license from each facility. Licensed daycares have state and federal regulations regarding safety that they are required to follow. Check the Better Business Bureau to see if there are complaints lodged against the facility.
Review the policies. The contracts you are asked to sign are likely designed to protect the daycare, not your child. Many include arbitration clauses that will reduce your ability to seek damages, and you may inadvertently waive some of your rights. Ask to see their policies regarding illnesses as well as vaccinations, so that you know how a medical emergency will be handled in your absence.
Visit the centers more than once. If you can plan for at least one unscheduled visit, you should. You want to see how they operate when they are not expecting guests. Make it a point to introduce yourself to different employees in different roles, too. The supervisor may be perfectly lovely, but what are the hourly workers like? Are they washing their hands? Are they standing around or are they engaged with the children?
Look down. Clean countertops and cheery decorations on the walls are great, but what do the floors look like? Are the cabinets secured? Where is the medication kept? Where is the food kept, and how is it stored? Children are small, so you want to make sure that you're inspecting on their eye level. If there are missing tiles, sharp tables, vermin, or waste at their level, this may not be a healthy environment.
Ask about security. We don't mean security officers: we mean security cameras. Are there blind spots in the cameras' views? Are there rooms aside from the bathroom that do not have cameras? Do all the lights work? Are the playgrounds fenced in? You want to ensure that any area your child may enter is visible, safe, and clean.
Ask about staffing. Are there any licensed nurses on staff? Are the employees full-time? What kinds of background checks does the facility employ? What is the turnover rate? Facilities which are understaffed, have difficulty keeping employees, are negligent in their hiring practices, or refuse to provide credentials for their "teachers" or "nurses" may not be your best choice.
Check with Local Government Entities. Call or search online with your local health agencies to see how many regulatory violations a facility has and the nature of the violations.
Talk to your children. Once your children begin attending a daycare, listen to them and observe their bonds with teachers, other students, and staff.
ChildCare.gov offers a list of questions prospective parents can ask about the facility. You can print out the checklist for free.
What kinds of injuries are most common at daycares throughout South Carolina?
No facility will be able to prevent every injury, just as no parent can prevent every harm. Children will fall on playgrounds and skin their knees or bump their heads, just as they will at home. Some types of injuries, however, should be entirely preventable. Those injuries can include:
Head or bodily trauma from being struck by falling objects or from unsecured furniture (like bookshelves)
Burn injuries from metal playground equipment, sun exposure, or hot liquids
Hand and finger injuries caused by broken or automated doors
Dehydration and/or hyperthermia from being left in daycare owned and/or operated vehicles
Oxygen deprivation or suffocation caused by drop-rail cribs, infant sleepers or rockers, or unsafe bedding
Choking risks associated with unsafe playground equipment and age-inappropriate toys
Drowning risks associated within unsupervised swimming or water play (at the facility or on a day trip), or from negligent bathing techniques
Life-threatening reactions to allergens from food or from unprescribed medications
Do parents need to worry about physical assault and sexual abuse at South Carolina daycare centers?
Unfortunately, yes – they do.
The truth is that these are not isolated incidents; every day, children are victims of violence and sexual abuse at daycares not only in South Carolina, but across the country. Some of them are physically or chemically restrained against their will; others are subjected to gross neglect. Often, the victims are too young to articulate what is happening to them, and so the abuse continues.
As parents, the best thing you can do to protect your children from these kinds of scenarios is to do your research – and trust your gut. If your child starts exhibiting signs of physical abuse (unexplained bruises, changes in behavior or personality, attempting to avoid the facility) or sexual abuse (reverting to younger behaviors like bed wetting, unexplained bruising around the genitals, reenacting sexual scenarios), get your child out of that facility and document everything with the help of your primary care physician. You can also report the daycare facility to local law enforcement. If you do not, your doctor – as a mandated reporter – must report it.
Your legal options if your child sustains injuries at a daycare center in South Carolina
If your child sustains an injury at a daycare center because of the negligence of the owners, operators, and/or staff, because of unsafe premises, or because of a defective or dangerous item, you can file a personal injury lawsuit to claim damages. Those damages can include:
All associated medical expenses
Your lost wages while you served as caretaker for your child
Your child's pain and suffering
If the worst comes to pass and your child's injury is fatal, you can file a wrongful death lawsuit against the center, its owners/operators, and all liable parties. Wrongful death lawsuits cannot bring your child back, but they can ensure that the people responsible are held to account, and that justice is served.
Contact McGowan, Hood, Felder & Phillips, LLC or call 803-327-7800 to schedule a free case evaluation by an experienced South Carolina daycare injury attorney. We maintain offices throughout the state for your convenience.