Vitamin E Acetate and Vaping Illness: The Connection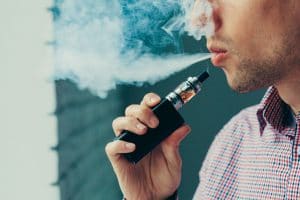 The dangers of vaping and vaping illness have been all over the news (and our blog) during the past few months. The Centers for Disease Control and Prevention (CDC), and hundreds of hospitals across the nation, have been working nonstop to try and find a reason for a mystery lung illness causing some of the tens of thousands of vaping injuries. Finally, after months of research, the CDC has named the likely culprit – Vitamin E acetate.
What is Vitamin E acetate?
Vitamin E acetate is an additive and thickening agent thought to be the cause of the vaping-related lung illness known as EVALI. There are currently 35 cases of EVALI  and hundreds of other vaping injuries in South Carolina.
Read More: EVALI Is a "Cute" Name for a Life-Threatening Lung Injury
The Vitamin E acetate compound is an oily chemical added to vape liquids, typically THC, to either dilute or thicken the substance. It's important to note that Vitamin E is widely and safely used in nutritional supplements and skin creams. However, scientists are discovering that the substance is not safe to inhale and can cause severe injuries to the lungs.
According to the CDC, Vitamin E acetate showed up in every sample of lung fluid collected from 29 patients with EVALI and vaping-related illnesses. "These findings reinforce CDC's recommendation that persons should not use e-cigarette or vaping products containing THC, especially those obtained from informal sources such as friends or family, or those from the illicit market, where product ingredients are unknown or can be highly variable," the report stated.
Why is it so dangerous?
Dr. Thaddeus Golden, a pulmonologist at Grand Strand Health in Myrtle Beach, explains the dangers of Vitamin E acetate and other additives:
"There's certain things [the lungs are] not made to absorb and things like oils. Anything that has a lipid content to it isn't well absorbed, so we know for years and decades there are certain occupational exposures where oils are aerosolized and that can cause lung disease. So the concerning thing is that even if they take the vitamin E acetate out of it, some of these have lipids or are lipid- based, so they may cause longer-term injury that we aren't aware of yet or may not be aware of for years or decades."
CDC recommendations
The CDC also noted that their investigation is not yet complete, and they can't rule out other causes or chemicals of concern for the vaping illness outbreak. However, they recommend the following safety measures to the general public:
Do not use THC-containing e-cigarette or vaping products
Do not buy or use THC-containing e-cigarette or vaping products from informal sources, including online dealers
Do not modify or add any substances to vapes or e-cigarettes that aren't intended by the manufacturer
They also note that the only way to assure you're not at risk is to refrain from using vape products or e-cigarettes altogether.
Read More:
If you or someone you know has developed a vaping-related illness, contact our attorneys to discuss your options. At McGowan, Hood, Felder & Phillips, we zealously represent personal injury clients and protect their right to compensation for their losses and damages. We'll fight for you. Call us at 803-327-7800 or reach out to us through our contact page. We serve clients throughout South Carolina.