What if My Seat Belt Malfunctions?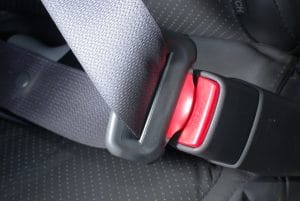 After years of public service announcements and campaigns designed to raise awareness regarding the importance of buckling up, most Americans now remember to put on their seat belt when they hop into a vehicle.
Most Americans, but not all.
According to the National Highway Traffic Safety Administration (NHTSA) – the government agency responsible for the "Click It or Ticket" campaign – safety belt use was at 90% in 2020, up 9% from 2006.
However, with 227.5 million licensed drivers in the United States in 2018, that final 10% leaves a significant number of people largely unprotected in the event of a crash.
That gap may close a bit with help from General Motors. The Detroit-based automotive manufacturer recently announced that most of their 2022 vehicles will be equipped with their new "Buckle To Drive" seat belt interlock system. Designed to increase seat belt use, the system prevents "any vehicle from shifting out of park if the driver is not properly belted and buckled." It was introduced in 2020 as part of a suite of teen driver safety features included on several models and will be added to additional models next year. The downside, of course, is that the feature can be disabled by vehicle owners who are not interested in being required to have their seat belt in place before starting their car.
We know that seat belts save lives. By and large, seat belts offer significant protection in the event of an accident, particularly when it comes to preventing fatalities. In fact, according to a report by the NHTSA, "of the 22,215 passenger vehicle occupants killed in 2019, 47% were not wearing seat belts."
Of course, those were situations where the safety belts functioned correctly. Seat belts can and do fail, and when they do, drivers and passengers can be seriously injured.
What are the causes of seat belt failure?
Sear belt failure can be caused by:
Human error. Failure to properly connect the belt can cause if to snap open. Using the wrong car or booster seat may also cause the seat belt to fail or be less effective.
Defects in design or manufacturing. Major automotive manufacturers like GM, Ford, and Toyota have issued recalls due to defective seat belts. Defects can cause a seat belt to loosen or even unlatch on impact.
Mechanic error. If you have been in a car crash and the seat belt locked up, it needs to be repaired or reset. If your mechanic failed to do this, then your seat belt can fail when you need it the most.
What are some signs that my seat belt malfunctioned?
When a motor vehicle crash occurs, it is not always obvious right away that a seat belt malfunctioned. There are, however, some indications that this has occurred, such as:
The seat belt is loose after the crash
The seat belt has visible rips and tears
Other signs of a safety belt malfunction include when an occupant of a vehicle:
Makes contact with windshield despite wearing seat belt
Suffers serious injuries in the crash even though they are belted
If you suffered injuries in a motor vehicle accident and noticed any of these things, it is possible that your seat belt did not perform as expected in the crash.
What kind of injuries can a defective seat belt cause?
A defective seat belt can do more than leave the person it was designed to protect vulnerable to injuries – it can result in fatalities. The primary function of a seat belt is to keep the vehicle occupant inside the car and as stable as possible during a crash. A seat belt that does not function correctly due to a design or manufacturing flaw or error will not provide adequate protection during a motor vehicle accident. Occupants may be ejected from the vehicle, but even if they remain in the car, they may suffer serious or even catastrophic injuries, such as:
Broken or fractured bones
Internal injuries including organ damage and bleeding
It is worth noting that even though it is always best to wear a seat belt, even when worn correctly, a properly functioning seat belt may not be enough to protect you from being injured in an accident. In fact, seat belts have been known to cause injuries, including:
Dislocations
Fractures
Intestinal injuries
Head, neck, and spinal cord injuries, including whiplash
Internal organ damage or bleeding
Ultimately, a seat belt's success rate is based on the number of fatalities it prevents. When properly designed, installed, and used, seat belts have been shown to significantly decrease motor vehicle accident fatalities.
I was injured because my seat belt malfunctioned. What should I do now?
Under South Carolina law, anyone injured by a defective product generally has three years from the date of the injury – or the date by which the injury should have been reasonably known – to file a products liability claim. A personal injury attorney with experience handling products liability cases can help you file your claim accurately and in a timely manner. Products liability cases can be complicated because they require a significant amount of documentation, such as details of the accident and injury or injuries, as well as the medical treatment required.
If you or a loved one suffered injuries due to a seat belt malfunction during a motor vehicle accident, it is important that you speak with a products liability lawyer. The personal injury attorneys at McGowan, Hood, Felder & Phillips, LLC can help. We are experienced in all areas of South Carolina personal injury law, including car accidents and product liability cases. Contact us to schedule a free consultation with one of our South Carolina products liability lawyers. Call us at 803-327-7800 or complete our contact form today.