Doctor Mistakes Cystic Mass for Gas, Leading to Blogger's Emergency Surgery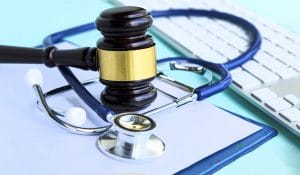 The country's healthcare system is unequal and unjust for women, especially Black women. Physician bias is compounded by foundational racism, making it difficult – if not impossible, in some cases – for Black women and Women of Color to get the care they need, when they need it.
A popular fashion blogger, Chanté Burkett, was forced to undergo an emergency surgery this June because her doctor failed to listen when she spoke about her symptoms and her needs. Back in December 2020, Burkett developed what she described in an Instagram post as "severe pelvic pain," a "semi-hard stomach," and vomiting. Although at first she attributed these symptoms to mild food poisoning, over the next few months, Burkett's health only got worse.
She visited her primary care physician (PCP) three more times over six months regarding her symptoms. Burkett told Health.com, "I complained to my primary care provider about the pain I was having, and they blamed my weight. The second time, they said that maybe I was gassy or bloated, and they recommended that I take some medicine for that."
Although Burkett was losing weight, her stomach was not going down and resembled that of a pregnant person. At this point, her PCP finally admitted they did not know what was causing her pain. It is also important to note that her PCP had not run any diagnostic tests.
Burkett immediately went to an urgent care center, where doctors ran a CT scan and discovered a mass, referring her to an OB-GYN. However, before her appointment, Burkett was rushed to the emergency room in extreme pain, where she was informed the mass would be removed immediately.
What the surgeons found was a 13-pound mass measuring 30 centimeters across – literally the size of a watermelon. Doctors were also forced to remove her fallopian tube and right ovary due to damage from the mass. Burkett is now recovering comfortably at home, but has a warning for other women.
She wrote to her followers in her Instagram post: "I truly hope this post gives you a push to advocate for yourself within the healthcare system. Demand the proper testing and make sure things are documented." She also told Health.com, "My tumor obviously stayed and grew, and it could have been detected earlier."
What is failure to diagnose?
Failure to diagnose (or misdiagnosis) is a type of medical malpractice that occurs when a medical professionals lets a condition go undiagnosed, even when the signs of that illness are evident. According to the Society to Improve Diagnosis in Medicine, diagnostic errors affect an estimated 12 million Americans each year, and result in the deaths of between 40,000 to 80,000 people annually.
When an illness, infection, or condition goes undiagnosed, serious or long-term injury can result. In the case of Chanté Burkett, the failure to diagnose her tumor in a timely manner may have led to the loss of her ovary and fallopian tube.
Why are conditions misdiagnosed or undiagnosed?
A failure to diagnose can occur when a medical professional acts carelessly or negligently with your health. This can happen for any number of reasons, but some common ones include:
Not taking a patient's complaints seriously
Failing to order proper diagnostic tests, like imaging, bloodwork, and ultrasounds
Failing to take a comprehensive medical history
Making assumptions about a patient based on gender, race, weight, or lifestyle
Failing to carefully monitor patient's vital signs, weight loss or weight gain, etc.
Failing to consider alternative diagnoses that could cause similar symptoms
Commonly misdiagnosed illnesses include cancer, deep vein thrombosis, stroke, brain aneurysms, and heart attacks. Careless doctors may diagnose these as much less serious conditions, like anxiety, migraines, the flu, or a stomach bug.
Why it's even more difficult for Black patients
For Black patients like Chanté Burkett, receiving quality medical care brings even more challenges. Statistics show that Black patients are treated differently than white patients in hospital and medical settings, particularly in the following areas:
Cardiovascular procedures
Cancer diagnosis and treatment
Receiving appropriate care for HIV
Care for diabetes, kidney disease, mental health
We must note that these facts do not mean that the medical field as a whole is racist – what it means is that, like many long-standing established organizations, it suffers from implicit bias, something that the medical community as a whole is working to improve. However, when implicit bias turns to flat-out discrimination and a patient suffers injury as a result, it is time for an experienced South Carolina medical malpractice attorney to step in and make things right.
How do I prove failure to diagnose?
A misdiagnosis or failure to diagnose alone is not enough for a successful malpractice action. To prove failure to diagnose and medical malpractice, your attorneys must show the following points.
You had a doctor-patient relationship
Your doctor acted in a negligent manner (failed to diagnose your illness)
That negligence caused your injuries
Those injuries led to specific losses and damages
Additionally, to prove malpractice, your legal team must show that a competent doctor under the same circumstances would have acted differently and not caused you harm.
At McGowan, Hood, Felder & Phillips, LLC, we protect victims of medical malpractice and failure to diagnose. If you experienced long-term injuries and losses because of a doctor's negligence, we would like to hear your story. To schedule a free consultation with one of our South Carolina attorneys, call 803-327-7800, or we invite you to reach out to us through our contact page.