American College of Physicians Paper Highlights Discrimination in Healthcare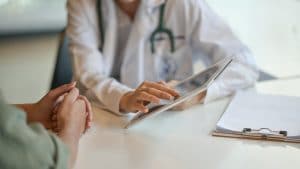 On January 12, the American College of Physicians published a position paper in the Annals of Internal Medicine, proposing a comprehensive policy framework to address racial disparity and discrimination in healthcare. The paper takes a strong position in calling for policy changes to better understand, address, and eventually remove existing health disparities due to institutional racism and discrimination.
The paper, titled "A Comprehensive Policy Framework to Understand and Address Disparities and Discrimination in Health and Health Care," includes a number of recommendations to enhance the quality and effectiveness of healthcare for all. They acknowledge that certain populations – specifically people of color – tend to have disparate health outcomes, and that discrimination typically plays a role. In the authors' own words:
Racial and ethnic minority populations in the United States experience disparities in their health and health care that arise from a combination of interacting factors, including racism and discrimination, social drivers of health, health care access and quality, individual behavior, and biology. To ameliorate these disparities, the American College of Physicians (ACP) proposes a comprehensive policy framework that recognizes and confronts the many elements of U.S. society, some of which are intertwined and compounding, that contribute to poorer health outcomes.
ACP believes that a cross-cutting approach that identifies and offers solutions to the various aspects of society contributing to poor health is essential to achieving its goal of good health care for all, poor health care for none.
ACP's recommendations to eliminate bias in healthcare
The paper outlines a variety of actions the healthcare industry can take to address and eliminate implicit and explicit bias and racial disparities. These recommendations fall into three main categories:
Educating and diversifying the medical workforce
Understanding health inequities felt by specific populations
Understanding inequities in criminal justice that affect health
The ACP also recommends that the healthcare community begin recognizing racism and hate speech as a public health crisis. Other recommendations include addressing issues and disparities like:
Efforts to meet linguistic and cultural needs
Recognition of long-standing injustices, especially to Indigenous peoples
Social determinants of health, like access to housing and education
They also call for policymakers to support, acknowledge, and address the healthcare industry's efforts. This includes strengthening our education system to improve health literacy and diversity from the bottom up. Said Jacqueline Fisher, incoming president of the ACP, "There are clearly things that need to be addressed, and between the COVID pandemic and the race issues that we dealt with this year, that just made this all very front and center."
McGowan, Hood, Felder & Phillips, LLC is fighting against racism and inequity in healthcare. We support the ACP's sweeping policy and education changes in the hopes that they can change the course for future patients, so that no one suffers the way Dr. Susan Moore did, ever again.
As the authors of the paper wrote, "good health care for all, poor health care for none."
McGowan, Hood, Felder & Phillips represent clients who have suffered harm due to medical negligence or harm from discriminatory medical practices. Talk to us today about your case and how we can help you. To schedule a free consultation with one of our South Carolina attorneys, call 803-327-7800, or we invite you to reach out to us through our contact form.