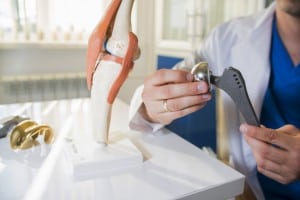 (This is part of a series, presented by McGowan, Hood & Felder, LLC, titled "Life on The Bleeding Edge: How the FDA Won't Keep You Safe." To learn more, please read Part One.)
In the Netflix documentary, The Bleeding Edge, you meet an orthopedic surgeon named Dr. Stephen Tower. He is shown biking around Anchorage, Alaska, where he lives and practices. Dr. Tower tells the story of how he started to experience pain in his hips, and how he was afraid that he would not be able to compete in a bike race he participated in every year. He knew that a hip replacement would be inevitable, if he wanted to continue his life without pain.
When Dr. Tower learned about DePuy Synthes' new metal-on-metal hip replacements, marketed specifically to people with active lifestyles, he decided that was the right choice for him. Within s short time, though, he started to experience some strange side effects, culminating in (as his wife put it) a mental break that led him to trash a hotel room.
What Dr. Tower experienced – what so many patients have experienced – is the effects of cobalt poisoning. It is a far more common side effect than you might think, and one that should have been anticipated by DePuy long before they started selling this defective medical device to patients.
What is cobalt?
Cobalt is a naturally occurring element best known for its blue shade. When the metal is smelted, it becomes very hard. It has a number of uses, and we even need a small amount of cobalt in our systems, or we can suffer from a particularly severe form of anemia. However, cobalt can also be highly toxic, and over-exposure to the metal can lead to heavy metals poisoning.
The toxicity of cobalt has long been known. In 1966, a curious case of cobalt poisoning occurred in Canada. A group of 48 beer drinkers developed a form of heart disease (cardiomyopathy) unique to that group. As it turns out, their local brewer had started using a form of cobalt sulfate to create a better foam on top. Of the 48 patients, 20 died as a result of their heart disease.
In 1975, a study was commissioned to review the impact of cobalt on tissues. Another study in 1994 reviewed the "dissemination of cobalt and chromium ions into lymph, liver, and spleen," per The BMJ (formerly the British Medical Journal).
Almost every metal-on-metal hip implant is made out of cobalt and chromium (another dangerous metal).
What is cobalt poisoning?
When metals build up in a person's blood and tissues, they can cause serious injuries. Metals poisoning is called metallosis. Both chromium and cobalt are metals that, over time, can poison an individual who has too much of them built up in his or her body. They can cause damage to the respiratory system, the kidneys and the heart. In particular, cobalt poisoning can lead to:
Cardiomyopathy
Deafness
Nerve problems
Ringing in the ears (tinnitus)
Thickening of the blood
Thyroid problems
The silver lining to cobalt poisoning is that the symptoms and damage, if caught in time, may be completely reversible. The tragedy, however, is that patients with extreme cases of cobalt toxicity may have injuries that are too severe to be reversed.
The other danger for cobalt poisoning is that it could mimic other conditions. In The Bleeding Edge, Dr. Tower wonders if some elderly patients – the ones most likely to need a hip transplant – might have been wrongfully diagnosed with a form of dementia, when in fact they were showing signs of a reversible condition, instead.
Other risk factors for metal-on-metal hip replacements
Metal poisoning is a serious concern for all hip replacement patients, but it is not the only one. Prosthetic joint infection (PJI) is a serious complication that "leads to severe pain, poor function, reduced quality of life, and even death."
Tissue and bone damage may also occur: "adverse reactions to metal debris from metal-on-metal implants are associated with destruction of soft tissue (muscles, tendons, neurovasculature) as well as bone. The soft tissue destruction is often irreparable, resulting in many patients doing poorly after revision procedures," per The BMJ. The journal also explained that as far back as 1996, "patients with metal-on-metal hips found to be at increased risk of cancer compared with those with metal-on-plastic hips."
In sum, metal-on-metal hip replacements, which have been under review since at least 1975, can lead to:
Toxic levels of cobalt poisoning
Irreparable tissue and bone damage
Potentially deadly infections
Cancer
Yet despite all of these risks, DePuy went ahead with developing and manufacturing their metal-on-metal hop implants.
The first implants hit the U.S. market in 2005.
How did such a dangerous product make it to market?
DePuy used the same 510(k) submission process that so many manufacturers use. It allowed the company to design a hip replacement based on earlier designs and products (called "predicate devices"), and then claim that their product was "substantially equivalent" to those previous models. Because of this, metal-on-metal hop replacements with chromium and cobalt were able to enter the market without the rigorous testing required for new Class II and Class III devices.
DePuy's negligence does not end there, either. From the New York Times:
The company had received complaints from doctors about the device, the Articular Surface Replacement, or A.S.R., even as it started marketing a version of it in the United States in 2005. The A.S.R.'s flaw caused it to shed large quantities of metallic debris after implantation, and the model failed an internal test in 2007 in which engineers compared its performance to that of another of the company's hip implants, the documents show.
Still, executives in Johnson & Johnson's DePuy Orthopaedics unit kept selling the A.S.R. even as it was being abandoned by surgeons who worked as consultants to the company. DePuy executives discussed ways of fixing the defect, the records suggest, but they apparently never did so.
[…]
According to DePuy's internal estimates, [the A.S.R. metal-on-metal hip replacement was] projected to fail within five years in about 40 percent of patients who received one. That is eight times the failure rate of most orthopedic implants.
DePuy knew. They knew it would fail. They knew it was dangerous. They knew it had failed the tests. They knew they were purposely misleading doctors, surgeons and patients. They knew, and they did nothing.
And they made a fortune.
Let us be your advocates
MarketWatch believes that "The global major orthopedic joint replacement implants market is expected to grow from $16.6 billion in 2017 to $20.1 billion in 2022."
Of course it will. Not only will more people need implants, but all the victims of defective implants will require revision surgeries. It is a veritable gold mine for the medical device industry – and not one of them cares who they hurt in the process.
That is why, if you were critically injured because of a defective cobalt hip replacement, you need an advocate like McGowan, Hood & Felder, LLC on your side. Our defective medical device lawyers have been fighting against medical device manufacturing companies for many years.
If you or your loved one suffered cobalt poisoning, developed an infection or cancer, sustained permanent tissue or bone damage, or were harmed in any way because of a defective metal-on-metal implant, we want to help. To learn more about your rights and options, or to schedule a free consultation at one of our offices, please call 888-302-7546 or fill out our contact form.
Read More: