Death Row Case Reaches State Supreme Court With Attorney Whitney Harrison's Help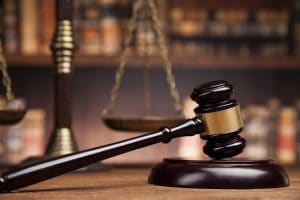 Back in 1999, Richard Moore was convicted and sentenced to death for a robbery and shooting death of convenience store clerk James Mahoney. Although details of how the altercation began are unknown, while Moore was in the store, the two got in an argument and Mahoney pulled out one of several firearms he kept behind the counter. A struggle ensued, both men ended up with guns and exchanged fire. They shot each other and Mahoney ultimately died from his injuries.
According to the criminal justice reform nonprofit Justice 360, Moore did not bring a weapon into the store, and within public record there is no similar case that has ever resulted in the death penalty. They state, "Even if robbery was the intent, Justice 360 research reveals no other death penalty cases like this—i.e. where the defendant did not bring a gun to a confrontation that resulted in a death."
Moore was scheduled for execution on December 4, 2020, but received a stay on November 30 due to the unavailability of the drugs required for lethal injection. Justice 360 reported that "[i]n its stay order, the Court explained it had 'been advised the South Carolina Department of Corrections does not have, and will not be able to obtain, the drugs required for execution by lethal injection by December 4, 2020.' Accordingly, the Court stayed the execution 'until the South Carolina Department of Corrections advises the Court it has the ability to perform the execution as required by the law.'"
The lack of availability of drugs for lethal injection is due to pharmaceutical companies' reluctance to provide them to states that don't have laws protecting them from litigation. According to the Herald-Journal, "South Carolina has not had the drugs for lethal injection since 2013 because it is not one of the 14 states with shield laws protecting the drug companies from lawsuits if the drugs are used in an execution."
Why the stakes are so high
The stakes are even higher for Moore, as he may face execution in a manner not seen in South Carolina in decades. South Carolina is poised for a solution to the lack of drugs available for lethal injection – forcing death row inmates to choose the electric chair or firing squad when lethal injection is not available. A proposed bill has already passed in the State House and is expected to become law, one applauded by Republicans and Governor McMaster, who have been stymied by pharmaceutical companies and their refusal to cooperate with the South Carolina penal system.
Opponents of the bill are "appalled," says the New York Times. "Why would South Carolina move toward the firing squad when they also do that in North Korea?" State Representative Justin Bamberg (D), said in an interview.
Attorney Whitney Harrison advocates for Moore
The issue at hand for Moore is not a question of guilt or innocence, but a matter of whether or not the sentence he received was disproportionally severe compared to similar cases. McGowan, Hood & Felder's Whitney Harrison recently advocated for Moore in front of the South Carolina Supreme Court. The state Supreme Court reviews death penalty sentences to determine whether the punishment is excessive, based on the penalties for similar cases.
Attorney Harrison argued that the death penalty is excessive in Moore's case, especially because he did not bring a weapon into the store with him the day the homicide occurred. The Post and Courier reports, "Harrison told the justices that Moore's situation is an outlier and said they should consider expanding the types of cases used to determine if a sentence is equal. For decades, the court has only compared death penalty cases to others in which the ultimate punishment was imposed, passing over those that resulted in life sentences."
She explained to the court that this limited review had a negative effect on Moore's case. She argued that because he was not armed when he entered the store that Mahoney's killing was not premeditated or planned, and that should be taken into account when deciding whether or not his death sentence was a fair one.
Watch more with Attorney Whitney Harrison in this clip about Richard Moore on MSNBC. The team at McGowan, Hood & Felder, LLC could not be prouder of Whitney's dedication to her clients and her strategic and compassionate legal advocacy.
More about Whitney Harrison
Attorney Harrison is a valued member of the McGowan, Hood & Felder team, providing creative legal strategies for each and every case and putting her instincts to work at every trial. Her reputation precedes her, leading premier firms across the state to consult with her on complex motions and appeals.
In 2020, Whitney became the first woman to receive the South Carolina Bar's Trial and Appellate Advocacy Award. The award "recognizes a member of the Bar who has demonstrated substantial dedication to the furtherance of the art and techniques of trial and appellate advocacy in South Carolina, outstanding and exemplary skill and conduct in the practice of advocacy, and has devoted substantial time and effort to the education and training of lawyers."
We are honored and proud to have Whitney here on our team.
The attorneys at McGowan, Hood & Felder, LLC are here to help. To schedule a free consultation with one of our South Carolina attorneys, call 803-327-7800, or we invite you to reach out to us through our contact page.