Kambrell Garvin Discusses His Journey on International Stuttering Awareness Day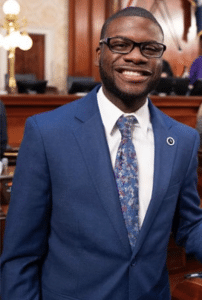 When he was five years old, Kambrell Garvin was diagnosed with a speech impediment. It was then that his mom changed the trajectory of her career, and pursued a career as a speech therapist to assist him in overcoming that challenge. As a result of her willingness to go above and beyond to assist him, today Kambrell is able to speak clearly and confidently, turning what once was a weakness into strength and in the process, discovering the power of his voice.
Today, Kambrell Garvin is an attorney with McGowan, Hood & Felder, and a member of the SC House of Representatives District 77 – two roles which require a lot of public speaking. It has taken Garvin years of practice, but he has mastered the challenge.
"If you know a stutterer, or somebody who has a fluency disorder – you know, it takes work," Garvin told WACH Fox 57. "Every minute, every second of the day, any time that they're communicating with somebody else [they're working] to make sure that they're articulating their thoughts well."
Watch Kambrell Garvin's interview in full.
Kindness, compassion, understanding and love are the way
When asked what people could do to support International Stuttering Awareness Day, Garvin said that people could show more kindness and compassion towards speakers with fluency disorders. "Being more understanding and showing more love is the way to go," he told WACH Fox 57.
We could not agree more, Kambrell. Kindness, compassion, understanding and love are almost always the answer.
If you have a child with a speech impediment or fluency disorder, or if you are struggling with a stutter yourself, The Stuttering Foundation offers a wide range of free tools and resources to help people of all ages.