How to Spot a Victim of Sex Trafficking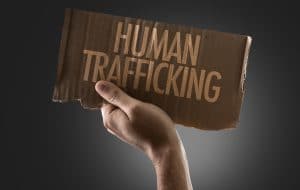 Human trafficking and sex trafficking are, unfortunately, two of the United States' largest and fastest growing problems. Millions of women and girls are drawn into this criminal underground system every year. Many are held against their will, moved around under the control of another person or group. As a result of the current spotlight on the crime of human trafficking, state and federal authorities are dedicating more resources to fighting this epidemic and providing more assistance to victims.
Sex trafficking victims may be all around us, afraid or unable to speak out. They can be girls, boys, young women and adults. It can happen to anyone, anywhere. There are some things, though, that everyday citizens can do to combat sex trafficking.
According to the Polaris Project, an anti-human trafficking charity, recognizing potential red flags can help identify victims or perpetrators of human and sex trafficking.
Common indicators of sex trafficking
A teen or young woman may be a victim of trafficking or under the control of another person if she/he:
Is unable to travel freely
Works excessively long or unusual hours
Isn't paid directly
Shows signs of poor hygiene, fatigue or malnourishment
Shows signs of physical abuse, bruises or restraint
Isn't in control of her own money or ID documents
Is frequently monitored
Isn't allowed to speak for herself
Minimizes abuse or denies she's a victim
Is falling asleep in class or at work
Displays oversexualized behavior
Brags about making a lot of money
Has a new tattoo (some traffickers "brand" their victims)
Has a much older boyfriend or new "friends" with a different lifestyle
Attends a lot of "parties" and begins recruiting friends to join her
Each of these warning signs should be taken in context, and may not be present in all sex trafficking cases.
Victims of sex trafficking are often young, vulnerable, at-risk, and from all socio-economic and ethnic backgrounds. Many victims are just looking for a refuge from an unstable home life, have a history of sexual abuse or are runaways with nowhere to go. Predators often target adolescent girls, who tend to be more susceptible to being groomed for trafficking.  They can be accosted at shopping malls, schools, movie theaters or shelters. In fact, homelessness is the largest risk factor for youth sex trafficking, according to the U.S. Family & Youth Services Bureau.
Sex trafficking of girls and women is a growing and devastating crime in our country and across the globe. When businesses turn a blind eye and predators create the foundation for this sexual abuse, it is no wonder that this is an epidemic in our country. It's time to start holding guilty businesses and people accountable for their actions.
You may contact the National Human Trafficking Hotline at 888-373-7888 or text "help" to 233733 if you are a victim or suspect human trafficking is happening in your community.
The South Carolina sexual assault attorneys at McGowan, Hood & Felder, LLC can help if you are a victim of sex trafficking. We will listen to what has happened to you and pursue justice on your behalf. If you prefer speaking with a female attorney because of the specifics of your situation, you can.
Call 911 or the sex trafficking hotline if you read this and are a victim of sex trafficking. Your first priority should be your personal safety. Then, call us at 803-327-7800 or reach out to us through our contact page. We serve clients throughout South Carolina.