Reuters Accuses WHO Cancer Agency of Editing Out Non-Carcinogenic Glyphosate Findings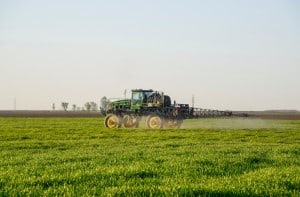 Does glyphosate cause cancer? Despite the International Agency for Research on Cancer's (IARC) assessment that it is a probable carcinogen, the Reuters news agency is now reporting that the IARC, "dismissed and edited" the findings from a draft of its review of glyphosate that were at odds with its initial conclusion that the weed killer causes cancer.
Glyphosate is the active ingredient in Round Up, which is the most-used herbicide in the world. Made by agri-business monolith, Monsanto, glyphosate has been under fire since the IARC, which is part of the United Nations World Health Organization (WHO), declared in 2015 that it is probably linked cancer. People who have attributed their cancers to their exposure to and use of Roundup have filed hundreds of lawsuits against Monsanto using the IARC's findings as evidence.
Reuters reported having seen documents that show how draft of a key section of the IARC's assessment of glyphosate underwent significant changes and deletions before the report was made public.
What happened with these drafts?
Major edits were made to the final report, which is normal; all scientist reports will undergo some editing. It is the type of editing that concerns Reuters.
First, it seems that the section which deemed glyphosate as potentially linked to cancer in animals, was heavily edited. According to Reuters:
"One effect of the changes to the draft, reviewed by Reuters in a comparison with the published report, was the removal of multiple scientists' conclusions that their studies had found no link between glyphosate and cancer in laboratory animals. In one instance, a fresh statistical analysis was inserted – effectively reversing the original finding of a study being reviewed by IARC.
[Furthermore] Reuters found 10 significant changes that were made between the draft chapter on animal studies and the published version of IARC's glyphosate assessment. In each case, a negative conclusion about glyphosate leading to tumours was either deleted or replaced with a neutral or positive one. Reuters was unable to determine who made the changes."
Is glyphosate carcinogenic?
Potentially. A draft of a report is just that – a draft. As new information becomes available, drafts must be updated, which appears to be the case here. And new lawsuits are being filed every day by people who have used glyphosate-based chemicals, like Roundup, and developed forms of cancer. That cancer is real. Their history of using Roundup is real. If glyphosate is not carcinogenic, then there appears to be another link between the product and cancer that has yet to be adequately explored, but must be investigated immediately.
Because the draft process is confidential, Reuters cannot determine why the drafts were changed. Instead, Congress is investigating American taxpayer funding of the IARC, in the hopes of getting to the bottom of the issue.
At McGowan, Hood & Felder, LLC, our defective product attorneys have the expertise to successfully handle complicated environmental tort and consumer protection cases occurring across the country. We defend clients' right to compensation after encounters with pernicious products. If you have been injured or become ill after coming into contact with Roundup, call 803-327-7800 or fill out our contact form now.